Panasonic PT-RZ120LBEJ
The Panasonic PT-RZ120L is a high-definition WUXGA resolution projector, offering vibrant images and extensive connectivity.
12000 lumens brightness
Laser light source
WUXGA resolution
3 Years Return To Base warranty
Optional interchangeable motorised lenses
£16,924.80 Incl. VAT£14,104.00 Excl. VAT
Resolution:

WUXGA

Brightness (Lumens):

12000

Light Source:

Laser

Lens Type:

Interchangeable

Projector Warranty:

3 years Return To Base
Projectorpoint Opinion
This model ships lensless as standard. This Unit is also available in White. Please contact us if you want to purchase the white chassis.
The Panasonic PT-RZ120L features native widescreen, high definition WUXGA resolution (16:10 aspect ratio, 1920 x 1200 pixels), extensive connectivity and a fleet of optional interchangeable motorised lenses as well as a laser light source.
Optional Lenses available :
| | |
| --- | --- |
| Lens | Throw Ratio |
| ET-DLE055 | 0.8:1 |
| ET-DLE060 | 0.6-0.8:1 |
| ET-DLE085 | 0.8-1.0:1 |
| ET-DLE105 | 1.0-1.3:1 |
| ET-DLE150 | 1.3-1.9:1 |
| ET-DLE170 (Standard Lens) | 1.7-2.4:1 |
| ET-DLE250 | 2.3-3.6:1 |
| ET-DLE350 | 3.6-5.4:1 |
| ET-DLE450 | 5.4-8.6:1 |
Projection Calculator
Where can I position the projector?
To achieve an image with 382 cm diagonal size, place the projector anywhere between 449.49 to 945.59 cm from the screen.
Manufacturer Overview
How the Game-Changing PT-RZ120 Can Revitalise Your Success
The 12,000 lm*1 PT-RZ120 is a first among 1-Chip DLP projectors. Further refinements to our high-quality imaging technology and filterless cooling system result in uncommonly high brightness from a compact body. Expect vibrant, high-contrast pictures and consistent colour uniformity across multiple screens courtesy 1-Chip DLP technology and dual solid-state laser light engines. Hermetically sealed optics contribute to 20,000 hours*2 maintenance-free projection, enhancing installation flexibility in elevated positions such as museums, auditoriums, university halls, and even larger, brighter environments.

Superior brightness, colour, and contrast delivered in a compact body
Reproducing Full-Spectrum Colour with 1-Chip DLP SOLID SHINE Laser
With next-generation DLP technology delivering high-resolution detail, dual laser modules for high brightness, Quartet Colour Harmoniser to reduce energy loss from the light source, and robust heat-resistant phosphor wheel, Panasonic's 1-Chip DLP SOLID SHINE Laser system produces scintillating images with unfailing reliability.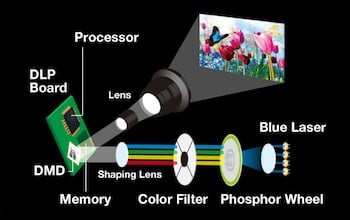 Dynamic Light Control for High Contrast
Dynamic Light Control directly modulates laser output to achieve high contrast with less power consumption. Digitally controlled frame-by-frame scene-linking modulation ensures highly precise adjustment of light output, while accurate contrast is delivered even when bright and dark scenes frequently interchange.

Superior White Balance and Colour Reproduction
Quartet Colour Harmoniser wheel mechanism captures a wider colour space than comparable projectors, allowing white to be reproduced more realistically on screen. Conventional projectors can't achieve an accurate white balance, so images can appear with a distracting greenish cast. Not the case with the Panasonic 1-Chip DLP SOLID SHINE Laser projectors.
Detail Clarity Processor 3
This unique Panasonic circuitry optimises the sharpness of each image based on information gathered from four frequency bands of the video signal. The resulting images are expressed with natural, convincing realism.

System Daylight View 3
Panasonic's premium System Daylight View 3 stops pictures washing out in bright light and enhances impact in mapping and multi-projector applications. It uses sensor information to adjust sharpness, manipulate gamma curves, and correct colours to suit on-site conditions.

Perfect for high-ceiling installation
Filterless Projector Structure with Airtight Optical Block
A refined heat-sink-based cooling system and dust-resistant projector structure open the door to hermetically sealed optics. Now impervious to dust, air filters and associated maintenance are a thing of the past. This original filterless design contributes to 20,000 hours* of maintenance-free operation, useful when the projector is difficult to access.
Engineered for Continuous 24/7 Projection
Dual laser drive groups diodes into discrete modules. A redundancy circuit minimises brightness- and colour-uniformity loss should a laser diode fail. Combined with durable phosphor wheels and Eco modes that extend life even further, the PT-RZ120 can operate 24/7 for long periods. Potential applications include surveillance, monitoring, signage, and public display.
SOLID SHINE Laser Maintains Picture Quality for Longer
Thanks to two long-lasting solid-state laser modules, there are no lamps to replace, and image colour/brightness degrades very gradually in consistent, linear fashion. As well as reducing maintenance hassle, out-of-the-box picture quality is preserved for longer.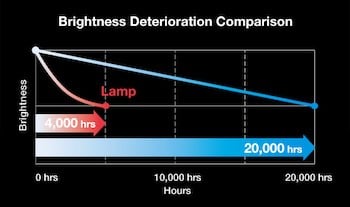 Compact, Lightweight, and Flexible Design
Extracting even higher brightness from a projector that's the same size as our award-winning PT-RZ970/PT-RZ770 series, the RZ120 is easy to handle and designed to reduce installation labor.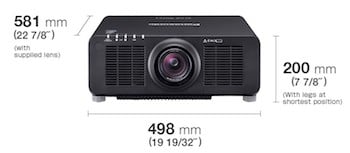 Flexible installation, streamlined setup, and great adaptability
Supports 4K Signal Input
The PT-RZ120/L supports uncompressed 4K video-signal input via HDMI® or DIGITAL LINK terminals. The ability to play Ultra HD video at the projector's supported native resolution is useful in situations where the same premium video content is intended for playback on multiple 4K and non-4K projectors or displays. It saves operators the hassle of re-encoding source video and allows the PT-RZ120/L to be added to a projector network that includes 4K units, streamlining simultaneous playback of a single 4K video source on all compatible display devices.
(Note: Images are converted to Full HD (1920 x 1080) upon video projection.)
Single-Cable DIGITAL LINK Connection
DIGITAL LINK transmits uncompressed video, audio*1, and control commands through a single CAT 5e or higher STP cable for distances of up to 150 m (492 ft)*2. Optional DIGITAL LINK Switcher or Digital Interface Box further simplifies installation, reduces cabling and associated costs, and enhances reliability.
(*1 Audio transmission depending on model's audio capability. *2 150 m (492 ft) transmission available only with ET-YFB200G DIGITAL LINK Switcher for signals up to 1080p.)
Separate LAN/DIGITAL LINK Terminals
Separate terminals for LAN and DIGITAL LINK enhance versatility. Installers can assign 100Base-TX- and 10BaseT-compatible control signals via LAN terminal, freeing up DIGITAL LINK for video.
Data-cloning Function
Data-cloning function allows various settings and configuration data*1 to be copied from a master projector to up to 99 slave projectors*2. Alternatively, the data can be cloned to slave projectors via LAN. This feature simplifies and expedites the setup process for multi-unit projection applications.
(*1 Excludes passwords, projector name/ID, and network settings. *2 Data-cloning function supported on identical projectors only.)

Contrast Sync and Shutter Sync Function
Contrast Sync function, designed for multi-screen applications, allows dynamic contrast control to be synchronised for consistent picture quality across screens. Shutter Sync, meanwhile, synchronises shutter on/off timing.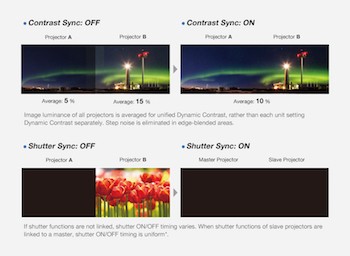 Multi-screen Support System
Optimally adjusts multiple screens with edge blending, colour matching, and digital image enlargement.
Edge Blending
Edges of adjacent screens can be blended and their luminance controlled.
Colour Matching
Corrects colour reproduction variations of each projector via PC control software.
Digital Image Enlarging
Digital zoom up to 10X (H/V)*. Up to 100 units (10 x 10) can be edge-blended to create large multi-screen images.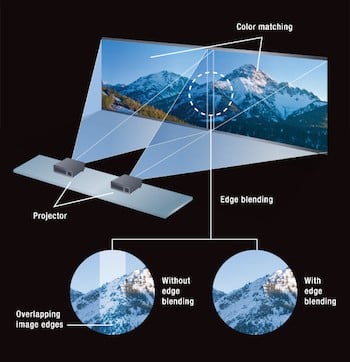 Multi-Unit Brightness and Colour Control
Sensors detect colour and brightness apparent on screen. Projectors automatically calibrate for a uniform multi-screen image, adding a layer of convenience and cost saving for long-term events.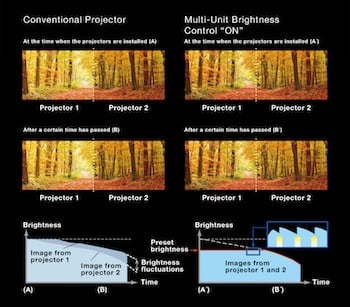 Backup Input Setting Assures Picture Display
Projectors switch instantaneously to a backup input signal should the primary input signal be disrupted*, assuring image display is maintained at all times in venues such as control rooms and adding insurance at events where projection must not be interrupted.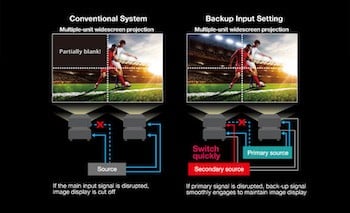 Screen Adjustment for Specially Shaped Screens
Horizontal, vertical, and corner keystone correction adjusts the image shape for clear visibility when projecting off-axis or from an unusual angle. Curved Screen Correction allows for the projection of natural, distortion-free images onto curved or cylindrical surfaces.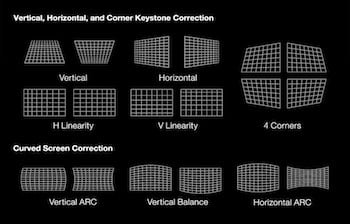 Geometry Manager Pro Software and Upgrade Kits
Geometry Manager Pro software expands image-adjustment functionality and makes complex multi-screen setup easy. The free software includes colour matching, edge blending, and many other functions via network. An optional ET-UK20 Upgrade Kit for Geometry Manager Pro adds uniformity correction and numerous creative masking capabilities, while the optional ET-CUK10 Series*1 kit activates an Auto Screen Adjustment plug-in, allowing automatic and simultaneous setup of multiple projectors. The plugin performs multi-screen and curved-screen calibration in three quick steps using a camera*2 and PC connected to the network, simplifying adjustment, edge blending, colour matching, stacking, brightness, and black level setup.
(*1 Available worldwide except the United States. *2 Supported cameras: Panasonic AW-HE70/AW-UE70, Nikon D5200/D5300/D5500/D5600.)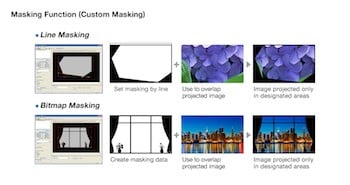 Simple convenience every day
Quick Start and Quick Off
The laser light-source doesn't require any time to warm up, so images appear almost instantly with projectors equipped with Quick Start/Quick Off function. There's also no cool-down period when turning the power off at the mains—the projector can be turned on and off any time as necessary.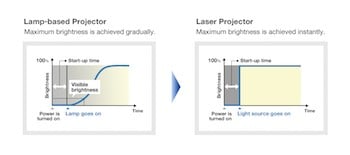 Smart Projector Control
Smart Projector Control is a powerful smartphone app that enables remote operation of supported Panasonic projectors. Install Smart Projector Control on your iPhone or Android™ phone or tablet, connect to your compatible Panasonic projectors via Wi-Fi (LAN), and control a variety of functions including lens adjustment, input switching, status monitoring, and more.
Multi Monitoring & Control Software and Early Warning Software
Manage up to 2,048 devices via network with convenient system map visualisation and auto-search of unregistered devices. The free software is available with Early Warning functions (automatic free 90-day trial available*). These enable real-time monitoring, abnormality detection, and more.

Need some help and advice before buying?
No problem, simply give one of our specialists a call on freephone or drop us an email.
Call Now:

0800 073 0833
Want to get the most from your equipment?
Our team of qualified, certified and CRB checked AV Technicians are available to carry out professional installations of your projector, projector screen, associated cabling and more.
Projector Installation Service
Technical Specifications
Image
Brightness

12000 Lumens

Resolution

WUXGA

Light Source

Laser

Contrast Ratio

10000 :1
Lens
Lens type

Interchangeable

Throw Ratio – Minimum

Throw Ratio – Maximum
Warranty
Projector

3 years Return To Base

Light Source
Need help or advice? Talk to experts!
If you need help making your choice, simply call our experts on our freephone.
Call Now:

0800 073 0833
Lenses compatible with this Projector
You Might Also Like
High brightness laser light source projector with rotating high-spec FUJINON lens for projections from ultra short distance in various directions.
The Panasonic PT-MZ17KLBEJ is a high-performance projector with 17,000 lumens, laser light source, and advanced installation features.
The Optoma ZU1700: High-brightness WUXGA laser projector with 17,000 lumens. Extreme installation flexibility and ultimate reliability for large venues.
The Panasonic PT-MZ14KWBEJ is a powerful projector with 14,000 lumens, laser light source, and advanced installation features.
The Panasonic PT-RZ990BEJ: high brightness, native WUXGA resolution, extensive connectivity, Quartet Colour Harmoniser, reliable in harsh conditions.
Discover the EB-PU2216B laser projector. 16,000 lumens, 4K enhancement, 20,000-hour laser light source for stunning images and easy maintenance.
Discover the Epson EB-PU2213B projector: 13,000 lumens, WUXGA resolution, and a 20,000-hour laser light source for stunning image quality and easy maintenance.
Browse More From Similar Category