Panasonic PT-RCQ10BEJ
The Panasonic PT-RCQ10 is a high-performance projector offering vivid colours and detailed images, ideal for various settings.
10000 lumens brightness
Laser light source
WUXGA resolution
3 Years Return To Base warranty
Optional interchangeable lenses available
£14,161.20 Incl. VAT£11,801.00 Excl. VAT
Resolution:

WUXGA

Brightness (Lumens):

10000

Light Source:

Laser

Lens Type:

Interchangeable

Projector Warranty:

3 years Return To Base
Projectorpoint Opinion
The unit ships with a ET-DLE170 Standard Lens (1.71-2.41:1).
This unit is also available in White. Please contact us if you wish to order the White chassis
The Panasonic PT-RCQ10 is a 10,000 ansi lumen projector featuring a laser light source, native widescreen high definition WUXGA resolution (1920 x 1200 pixels , 16:10 aspect ratio) and LCD display technology for colour rich true to life images. 
In addition the PT-RCQ10 features a wealth of connectivity inputs as well as a fleet of optional interchangeable lenses for installation flexibility and ease of use.
Optional Lenses
ET-DLE020 (0.280–0.299)
ET-DEL035 (0.380)
ET-ET-DLE055 (0.785)
ET-DLE060 (0.600-0.801)
ET-ET-DLE085 (0.782-0.977)
ET-DLE105 (0.978-1.32)
ET-DLE150 (1.30-1.89)
ET-DLE170 (1.71-2.41)
ET-DLE250 (2.27-3.62)
ET-DLE350 (3.58-5.45)
ET-DLE450 (5.36-8.58)
Projection Calculator
Where can I position the projector?
To achieve an image with 382 cm diagonal size, place the projector anywhere between 449.49 to 945.59 cm from the screen.
Manufacturer Overview
Original Imaging Engines Boost Colour and Detail
Rich Colour Harmonizer for Naturally Vibrant Images
Rich Colour Harmonizer exceeds the limits of conventional 1-Chip DLP image quality with a new colour-filter design and proprietary processing that expands the ratio of red light used to create the image. Rich Colour Harmonizer achieves a more accurate white balance for natural skin-tone expression, smooth gradation, and intensely vivid colours that burst from the screen.

Clearer, Sharper Images with Smooth Pixel Drive
Smooth Pixel Drive is a new 1-axis pixel-wobbling system that produces detailed images beyond the projector's panel resolution. It combines an original image processing engine optimized for single-axis pixel-wobbling with a thinner DMD aperture ratio, boosting perceived resolution while smoothing jaggies, sharpening text, and clarifying detail, resolving impressively with 4K input signals*. Your audience is treated to clear, comfortable, and easy-to-see images even from a distance.
* 4K input signals are resized to 2715 x 1697 pixels upon projection. (With Smooth Pixel Drive: ON)
Flexible Installation and Seamless Integration
Supports 4K Signal Input
The PT-RCQ10 Series supports uncompressed 4K signal input via HDMI or DIGITAL LINK terminals, streamlining playback of 4K sources and eliminating the need for video re-encoding. Combined with new Smooth Pixel Drive 1-axis pixel-wobbling technology, support for Ultra HD signal playback creates highly detailed images beyond the projector's panel resolution, ideal for 4K sources that demand especially precise and detailed on-screen reproduction.
Note: 4K input signals are resized to 2715 x 1697 pixels upon projection. (With Smooth Pixel Drive: ON)
High Extensibility with SLOT NX Interface Boards
With a view towards application in the rental and staging arena as well as long-term deployments at museums, exhibitions, and theme parks, the PT-RCQ10 Series supports swappable SLOX NX interface boards to suit your requirements. The optional boards comprise DisplayPort, HDMI, 12G-SDI, and DVI-D.
Remote App with NFC Function*1 and Projector Auto-Focus via Device's Camera
Smart Projector Control app for Android and iOS now includes Near Field Communication (NFC) function to instantly pair smartphone to projector just by touching them together. Once linked, the app accesses an information settings menu that's readable and writable*2 for easy adjustment without turning on the projector. As well as showing data and allowing certain settings to be changed, the app features an auto-focus function*3 that uses the smartphone's camera and app UI to achieve fast yet precise image focus.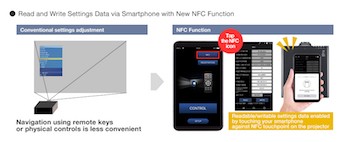 *1 Availability may vary by country or region.
*2 The ability to write data is not possible with iOS devices. Use of functions described may require prior activation within the projector's settings. Check the App Store or the Google Play store for minimum device and OS requirements, or click here for more information.
Note: In some countries, projector activation is required to use NFC function. Please click here for a list of countries where an optional ET-NUK10 Upgrade Kit can be obtained to enable NFC function. For more information, please visit PASS. If NFC function is disabled, the app's NFC screen is displayed, but reading/writing data is not possible.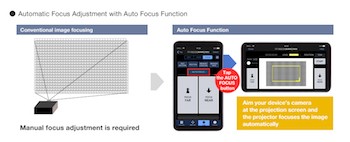 *3 Auto Focus may not be compatible with some mobile devices.
Expanded Lens Lineup Opens New Creative Possibilities
Eleven optional lenses cover any projection situation and are interchangeable with Panasonic 1-Chip DLP projectors in your inventory. The PT-RCQ10 Series is a perfect match for our ET-DLE020 Ultra-Short-Throw Zoom Lens. As the world's first* UST lens with optical zoom, technicians can work faster with wide-range image adjustment enabled by zoom and V/H lens-shift functions following installation. The mirrorless zero-offset lens combines with the projector's compact body to enable front- or rear-projection in extremely small spaces in single or dual-stacked configuration.
* As of February 2019. For 0.4:1 throw-ratio or less. According to internal research.
Excellent Reliability with Dust-Resistant Lasers
Filterless Projector Structure with Airtight Optical Block
A refined heat-sink-based cooling system and dust-resistant projector structure open the door to hermetically sealed optics. Now impervious to dust, air filters and associated maintenance are a thing of the past. This original filterless design contributes to 20,000 hours* of maintenance-free operation, useful when the projector is difficult to access.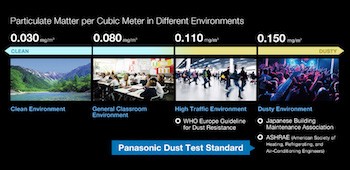 * At this time, light output will have decreased by approximately 50 %. IEC62087: 2008 Broadcast Contents, NORMAL Mode, [Dynamic Contrast] set to [3], temperature 30 °C (86 °F), elevation 700 m (2,297 ft) with 0.15 mg/m3 of particulate matter. Value will vary depending on environment and usage conditions. Parts other than the light source may require replacement in a shorter period. Panasonic recommends checkup at point of purchase after about 20,000 hours.
Engineered for Continuous 24/7 Projection
Dual laser drive groups diodes into discrete modules. A redundancy circuit minimizes brightness- and colour-uniformity loss should a laser diode fail.
Combined with durable phosphor wheels and Eco modes that extend life even further, the PT-RCQ10/RCQ80 can operate 24/7 for long periods. Potential applications include surveillance, monitoring, signage, and public display.
SOLID SHINE Laser Maintains Picture Quality for Longer
Thanks to two long-lasting solid-state laser modules, there are no lamps to replace, and image colour/brightness degrades very gradually in consistent, linear fashion. As well as reducing maintenance hassle, out-of-the-box picture quality is preserved for longer.
Backup Input Setting Assures Picture Display
Projectors switch instantaneously to a backup input signal should the primary input signal be disrupted*, assuring image display is maintained at all times in venues such as control rooms and adding insurance at events where projection must not be interrupted.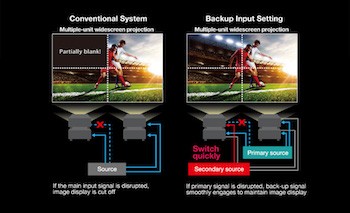 (* Combination of primary/secondary input terminals is fixed. Switching to secondary input (or primary input) occurs automatically when the input signal for primary input (or secondary input) is disrupted. The Backup Input Setting is enabled only when the input signal to primary and secondary terminals is the same.)
Multi Monitoring & Control Software and Early Warning Software
Manage up to 2,048 devices via network with convenient system map visualization and auto-search of unregistered devices. The free software is available with Early Warning functions (automatic free 90-day trial available*). These enable real-time monitoring, abnormality detection, and more.

(* Free 90-day trial available upon installation of Multi Monitoring & Control Software Ver. 2.0 or later. Multi Monitoring & Control Software Ver. 2.0 or later is required for Early Warning functions. Purchase a license and activate at PASS when trial period expires to continue using Early Warning functions.)
OTHER FEATURES
Dynamic Light Control for High Contrast
Dynamic Light Control directly modulates laser output to achieve high contrast with less power consumption. Digitally controlled frame-by-frame scene-linking modulation ensures highly precise adjustment of light output, while accurate contrast is delivered even when bright and dark scenes frequently interchange.

Detail Clarity Processor 3
This unique Panasonic circuitry optimizes the sharpness of each image based on information gathered from four frequency bands of the video signal. The resulting images are expressed with natural, convincing realism.

System Daylight View 3
Panasonic's premium System Daylight View 3 stops pictures washing out in bright light and enhances impact in mapping and multi-projector applications. It uses sensor information to adjust sharpness, manipulate gamma curves, and correct colours to suit on-site conditions.

Single-Cable DIGITAL LINK Connection
DIGITAL LINK transmits uncompressed video, audio*1, and control commands through a single CAT 5e or higher STP cable for distances of up to 150 m (492 ft)*2. Optional DIGITAL LINK Switcher or Digital Interface Box further simplifies installation, reduces cabling and associated costs, and enhances reliability.
(*1 Audio transmission depending on model's audio capability.
*2 150 m (492 ft) transmission available only with ET-YFB200G DIGITAL LINK Switcher for signals up to 1080p.)
Separate LAN/DIGITAL LINK Terminals
Separate terminals for LAN and DIGITAL LINK enhance versatility. Installers can assign 100Base-TX- and 10BaseT-compatible control signals via LAN terminal, freeing up DIGITAL LINK for video.
Data-Cloning Function
Data-cloning function allows various settings and configuration data*1 to be copied from a master projector to up to 99 slave projectors*2. Alternatively, the data can be cloned to slave projectors via LAN. This feature simplifies and expedites the setup process for multi-unit projection applications.


(*1 Excludes passwords, projector name/ID, and network settings.
*2 Data-cloning function supported on identical projectors only.)
Contrast Sync and Shutter Sync Function
Contrast Sync function, designed for multi-screen applications, allows dynamic contrast control to be synchronized for consistent picture quality across screens. Shutter Sync, meanwhile, synchronizes shutter on/off timing.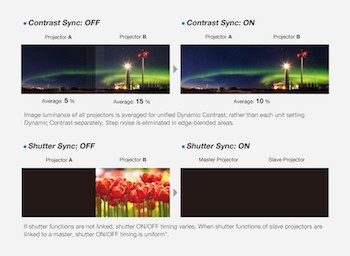 * Includes fade-in and fade-out effects. Projector shutter functions can be set to operate individually if desired.
Multi-Screen Support System
Optimally adjusts multiple screens with edge blending, colour matching, and digital image enlargement.
Edge Blending
Edges of adjacent screens can be blended and their luminance controlled.
Colour Matching
Corrects colour reproduction variations of each projector via PC control software.
Digital Image Enlarging
Digital zoom up to 10X (H/V)*. Up to 100 units (10 x 10) can be edge-blended to create large multi-screen images.
(* While input resolution will not change, maintaining image quality is not possible for images enlarged horizontally and vertically via the digital zoom function.)
Multi-Unit Brightness and Colour Control
Sensors detect colour and brightness apparent on screen. Projectors automatically calibrate for a uniform multi-screen image, adding a layer of convenience and cost saving for long-term events.
Geometry Manager Pro Software and Upgrade Kits
Download free Geometry Manager Pro software to expand geometric and multi-screen setup and calibration capabilities via PC. The suite includes two upgrade kits that can be optionally unlocked with paid key codes. ET-UK20 adds uniformity correction and extensive creative masking capabilities. ET-CUK10 features Auto Screen Adjustment which enables simultaneous setup (including curved-screen correction) of multiple projectors for multi-screen applications using a compatible camera. This streamlines edge-blending, colour-matching, black-level, stacking, and brightness uniformity calibration.
MaskingFunction (Custom Masking)
(Note: Requires the latest firmware. Register your projector at PASS to update firmware, get free Geometry Manager Pro software for PC, obtain activation keys for ET-UK20 and ET-CUK10, and download a plug-in for ET-CUK10. Compatible cameras for ET-CUK10 comprise Panasonic AW-HE70/AW-UE70 and Nikon D5200/D5300/D5500/D5600. Visit PASS at https://panasonic.net/cns/projector/pass for more information.)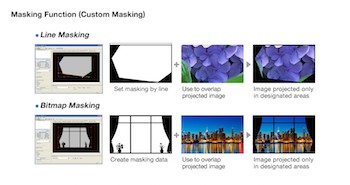 Compact, Lightweight, and Flexible Design
Extracting even higher brightness from a projector that's the same size as our award-winning PT-RZ120, the PT-RCQ10 Series is easy to handle and designed to reduce installation labor.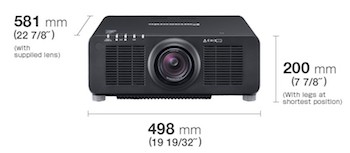 Quick Start and Quick Off
The laser light-source doesn't require any time to warm up, so images appear almost instantly with projectors equipped with Quick Start/Quick Off function. There's also no cool-down period when turning the power off at the mains—the projector can be turned on and off any time as necessary.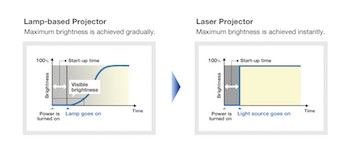 Need some help and advice before buying?
No problem, simply give one of our specialists a call on freephone or drop us an email.
Call Now:

0800 073 0833
Want to get the most from your equipment?
Our team of qualified, certified and CRB checked AV Technicians are available to carry out professional installations of your projector, projector screen, associated cabling and more.
Projector Installation Service
Technical Specifications
Image
Brightness

10000 Lumens

Resolution

WUXGA

Light Source

Laser

Contrast Ratio

10000 :1
Lens
Lens type

Interchangeable

Throw Ratio – Minimum

Throw Ratio – Maximum
Warranty
Projector

3 years Return To Base

Light Source
Need help or advice? Talk to experts!
If you need help making your choice, simply call our experts on our freephone.
Call Now:

0800 073 0833
You Might Also Like
Maintenance-free projection with IP5X Dust Protected standard, liquid cooling system, and backup input for enhanced reliability.
Flexibility and expandability with optional lenses and Intel SDM-ready slot for easy integration and connectivity.
The Panasonic PT-MZ14KWBEJ is a powerful projector with 14,000 lumens, laser light source, and advanced installation features.
The Panasonic PT-RZ120L is a game-changing projector with 12,000 lumens, high contrast, and vibrant colours. Perfect for high-ceiling installations.
Discover the EB-PU2216B laser projector. 16,000 lumens, 4K enhancement, 20,000-hour laser light source for stunning images and easy maintenance.
Discover the Epson EB-PU2213B projector: 13,000 lumens, WUXGA resolution, and a 20,000-hour laser light source for stunning image quality and easy maintenance.
The Epson EB-PU2113W: 13,000 lumens, WUXGA resolution, 4K enhancement. Optional powered lenses for easy installation. Ideal for auditoriums and museums.
Ultra-short throw and a wide lens-shift range. Lens barrels capable of maintaining high resolutions even when rotated in six directions on two axes.
Browse More From Similar Category