Optoma ZU860
The Optoma ZU860 is a high-performance large venue projector, offering WUXGA resolution and a robust 8500 lumens brightness.
Laser light source with up to 30,000 hours lifespan
Interchangeable lens options for flexible installation
DuraCore technology for superior colour performance
Integrated warping and edge blending processor
HDBaseT for simplified cabling and installation
£8,698.80 Incl. VAT£7,249.00 Excl. VAT
Resolution:

WUXGA

Brightness (Lumens):

8500

Light Source:

Laser

Lens Type:

Interchangeable

Projector Warranty:

3 years Return To Base
Projectorpoint Opinion
The Optoma ZU860 is a native WUXGA resolution (1920 x 1200 pixels, 16:10 aspect ratio) dedicated large venue projector featuring a powerful 8500 ansi lumen light output, a suite of interchangeable lenses and a Laser light source
This models ships lensless as standard, please call to discuss which lens would best suit your application
Lens Options
BX-CTA16- 0.36 ~ 0.36
BX-CTA15- 0.75 ~ 0.95
BX-CTA01- 0.95 ~ 1.22
BX-CTA06- 1.22 ~ 1.53
BX-CTA03- 1.52 ~ 2.92
BX-CTA13- 2.90 ~ 5.50
BX-CTADOME- Dome lens
Projection Calculator
Where can I position the projector?
To achieve an image with 382 cm diagonal size, place the projector anywhere between 449.49 to 945.59 cm from the screen.
Manufacturer Overview
Spectacular image quality, low maintenance and ultimate reliability
The ZU860 combines superior colour with exceptional brightness consistency. The innovative laser technology delivers ultimate colour performance whilst the DuraCore laser light source maintains exceptional brightness consistency.
Delivering up to an astonishing 30,000 hours, this projector achieves superior colour rendition.
Designed for even the most complex professional installations, the ZU860 offers seven interchangeable lens options including an ultra short throw lens and single-projector dome lens for ultimate flexibility.
Features
Bright 8500 lumen laser WUXGA DLP projector
Up to 30,000 hours maintenance-free laser light source
Dust resistant – independently tested, IP5X certified for total reliability
Installation flexibility – 7x lens options including ultra short throw and dome lens
DuraCore
Industry leading lifetime is achieved using Optoma's DuraCore technology. Implementing advanced laser diode cooling techniques and an innovative dust resistant design.
Integrated warping and edge blending processor
Integrated warping and edge blending processor enables multiple projectors to be warped and blended without additional dedicated hardware, reducing the cost & complexity of installation. Warping and edge blending is configured using either the projectors on screen display or with PC software depending on model.
*Compatible multi output graphics card with overlap function is required.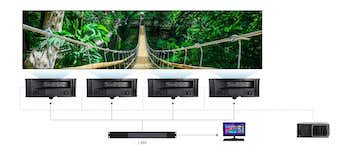 HDR compatible
Capable of receiving and displaying HDR meta data, Optoma HDR compatible projectors allow you to see far more detail and texture. Objects look more solid and life like and the extra detail creates a greater sense of depth. It's like looking through a window.
HDBaseT
Uncompromising, uncompressed Full HD video, audio, network and control commands all delivered on a single CAT- type cable capable up to 100 meters/328 feet without signal loss makes installation hassle-free. HDBaseT simplifies cabling requirements and reduces installation complexity saving both time and reducing costs.
Amazing colour
Optoma projectors provide reliable colour performance suitable for any content and environment. From accurate sRGB colours for lifelike images to vibrant punchy presentations. We have a display mode to specific meet your needs. Perfect for a range of graphic and video presentations.
Colour Management System (CMS)
Display accurate lifelike colours to best match your viewing environment. This unique feature provides you with the flexibility to fine-tune the colour settings for optimal precision.
Brightness matching
A valuable feature of any professional installation incorporating more than one projector. Multiple units of the same model and similar lamp usage can be fine tuned to give the same brightness levels; important, especially when side by side.
Constant power
Allows users to set the power levels to meet individual installation requirements. Power levels can be managed to obtain the brightest picture or longest light source life – or anywhere in-between
Constant brightness
Advanced light sensing technology allows the setting of brightness levels that will remain unchanged over time. Ideal for ensuruing constant brightness for fine tune installations
True AV mute
True AV mute enables the light source of the projector to be instantly switched off and on at the press of a button. Unlike standard AV mute functionality no light is emitted from the projector, this gives 100% blackout on screen.
Extreme Black
Extreme black enables the laser diodes to completely turn off when a full black image frame is detected. This feature is perfect for situations where a total image blackout is required.
Full lens shift
Simplify installation with full lens shift, which provides a wider range of projector placement possibilities. This makes it easier to position the projector in your room and enables a wider range of screen size options.
Picture by picture picture-in-picture
Signals can be delivered simultaneously via the HDMI and DVI ports, for a PbP or PiP display from two digital sources – perfect for video-conferencing and other collaborative applications.
360 projection*
Images can be projected over a 360° range* along the projector's horizontal axis.
*For more information please refer to the user manual
Portrait projection
Ideal for digital signage applications you can rotate your projector 90 degrees to project a portrait image.
Customise your projector
Have your projector in any colour. Chose from any RAL colour. Perfect for bespoke installations. *Contact us for more information"
Full 3D
Optoma projectors can display true 3D content from almost any 3D source, including 3D compatible graphics cards, 3D broadcasting and the latest generation 3d media servers.
Wired remote
The wired remote connection allows all aspects of the projector to be individually controlled without requiring a line-of-sight to the projector; invaluable when using multiple units during live events.
Control
Featuring a wide range of options you can control and monitor the projector remotely.
• RS232 Optoma projector's come with an extensive set of RS232 commands making it simple and easy to manage using any control system.
• AMX Compatibility Dynamic discovery protocol is incorporated into the projector allowing for easy installation with AMX control systems.
• LAN Control Using the compatible RoomView software you can power on/off, monitor, manage and control up to 250 projectors at the same time from any computer.
• Schedule the projectors to power on/off.
• Control and alter the projector settings using the simple web browser.
• Emergency text broadcast capabilities for urgent or important announcements.
• Automatically receive email updates for lamp maintenance.
PJLink
PJLink protocol is incorporated into the projector allowing for easy installation with PJLink compatible control systems.
Telnet
This model is able to receive commands via telenet allowing for easy installation with Telnet compatible control systems.
DuraCare Warranty
Optoma's additional DuraCare warranty package offers a warranty designed for very high duty operation. It ensures higher average brightness and exceptional reliability over an extended period of up to 5 years or 24,000 hours. This additional package has the added benefit of a preventative maintenance service at 12,000 hours which will return the performance back to the day it was manufactured.
12,000 hour re-manufacture service:
1. Replacement of laser light source
2. Replacement of critical components and moving parts
3. Internal inspection and cleaning
For more information and terms and conditions please click here
IP5X Dust resistant optical engine
Independently tested and certified to IEC standard 60529 with an IP5X dust resistance rating. Outstanding dust resistance combined with exceptional brightness ensures industry leading durability; paramount for 24/7 maintenance free operation in challenging environments.
Need some help and advice before buying?
No problem, simply give one of our specialists a call on freephone or drop us an email.
Call Now:

0800 073 0833
Want to get the most from your equipment?
Our team of qualified, certified and CRB checked AV Technicians are available to carry out professional installations of your projector, projector screen, associated cabling and more.
Projector Installation Service
Technical Specifications
Image
Brightness

8500 Lumens

Resolution

WUXGA

Light Source

Laser

Contrast Ratio

2000000 :1
Lens
Lens type

Interchangeable

Throw Ratio – Minimum

Throw Ratio – Maximum
Warranty
Projector

3 years Return To Base

Light Source

5 Years / 12000 cumulative hours
Need help or advice? Talk to experts!
If you need help making your choice, simply call our experts on our freephone.
Call Now:

0800 073 0833
You Might Also Like
The Panasonic PT-MZ11KLWEJ is a powerful projector with 11,000 lumens, laser light source, and advanced installation features.
The Optoma ZU920T: 4K HDR laser projector with 9800 lumens, lens shift, and up to 30,000-hour lamp life. Perfect for immersive installations.
The Epson EB-PU2010B: 10,000 lumens, WUXGA resolution, HDR support, interchangeable lenses. Ideal for large venues and professional installations.
The Epson EB-PU2010W: 10,000 lumens, WUXGA resolution, HDR support. Ideal for large venues and pro installations.
The Barco G60-W10: 10,000 lumens, WUXGA resolution, lamp-free laser phosphor light source. Optional lenses for flexibility. Renowned service and support.
The Optoma ZU820TST: 8200 lumens, 4K & HDR compatible, 30,000-hour maintenance-free operation. Ideal for immersive installations & professional environments.
The Optoma ZU725TST is a professional installation laser projector, offering high brightness and colour precision for various applications.
Upgrade to the NEC PV800UL for a cost-effective, low maintenance, and long-life laser projector. Enjoy vivid colours and flexible installation options.
Upgrade to the NEC PV800UL for cost-effective, maintenance-free laser projection. Brilliant colour, 8000 lumens, and interchangeable lenses.
The Panasonic PT-MZ11KLBEJ is a powerful projector with 11,000 lumens, laser light source, and advanced installation features.
The NEC PA803U is a versatile installation projector with 8000 lumens, WUXGA resolution, and HDBaseT connectivity for easy setup and flexibility.
Experience incredible image quality with the BenQ LU9800 laser projector. Enjoy vibrant colours, high contrast, and 20,000 hours of reliable performance.
Browse More From Similar Category