Optoma ZK507-W
The Optoma ZK507-W is a high brightness 4K UHD laser projector, ideal for large venues and educational settings, offering superior colour performance and detail.
5000 lumens brightness
Laser light source with up to 20,000 hours of use
4K UHD resolution
1.6x optical zoom with vertical lens shift
1 Year Return To Base warranty
£4,398.00 Incl. VAT£3,665.00 Excl. VAT
Resolution:

4K UHD

Brightness (Lumens):

5000

Light Source:

Laser

Lens Type:

Fixed

Projector Warranty:

1 Year Return To Base
Projectorpoint Opinion
The Optoma ZK507-W features a bright 5000 ansi lumens, native widescreen ultra high definition resolution (3840 x 2160 pixels via upscaling technology, 16:9 aspect ratio) and a laser light source for up to 20,000 hours of use.
In addition the ZK507-W has a generous 1.6x optical zoom with a 1.39-2.22:1 lens ratio as well as vertical and horizontal lens shift providing immense installation flexibility when it comes to mounting the projector in relation to the screen.
Projection Calculator
Where can I position the projector?
To achieve an image with 382 cm diagonal size, place the projector anywhere between 449.49 to 945.59 cm from the screen.
Manufacturer Overview
4K UHD high brightness laser projector : The ZK507 4K ultra HD laser projector is perfect for large venues, education, museums, houses of worship and anywhere a clean bright image is required.
Packed full of features this advanced laser projector comes with a huge 1.6x zoom and vertical lens shift making it easy to install. It also come with PureMotion frame-interpolation processing which eliminates motion blurring or image judder, a built in speaker, it's HDR compatible and has an extremely long-life laser reducing your total cost of ownership.
For ultimate control, the projector comes with RJ45 connection allowing you to monitor and control your network in multiple rooms.
Features
– Bright 4K UHD laser projector – 5000 ANSI lumens
– HDR Compatible
– 1.6 x zoom, vertical lens shift
– 20,000 hours maintenance-free laser light source
Laser technology
Optoma laser projectors use high-quality lasers to create the projected image. In many situations the perceived brightness from laser illumination projectors can be twice that of an equivalent lamp-based model. They also deliver increased efficiency to maintain consistent brightness, superior colour performance, instant on/off and an extraordinary life span of up to 20,000 hours.
4K UHD Resolution
With over eight million pixels, Ultra HD 4K resolution brings four times more detail than Full HD, to deliver sharper, life-like images and richer colours – allowing you to sit closer to the screen and enjoy a more immersive experience.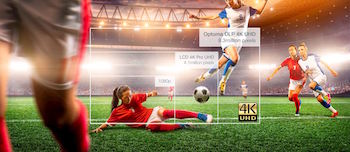 HDR compatible
Capable of receiving and displaying HDR meta data, Optoma HDR compatible projectors allow you to see far more detail and texture. Objects look more solid and life like and the extra detail creates a greater sense of depth. It's like looking through a window.
Superior contrast
Add more depth to your image with a high contrast projector. Compared to competing technology, Optoma DLP projectors provide you with brighter whites and ultra-rich blacks, images come alive and text appears crisp and clear – ideal for business and education applications.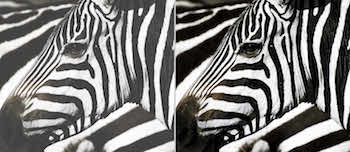 Amazing colour
Optoma projectors provide reliable colour performance suitable for any content and environment. From accurate sRGB colours for lifelike images to vibrant punchy presentations. We have a display mode to specific meet your needs. Perfect for a range of graphic and video presentations.
PureMotion
Using sophisticated frame-interpolation technology, advanced motion control processing eliminates motion blurring or image judder, even in high-speed action sequences.
UltraDetail
This technology ensures all the information contained in an image is faithfully reproduced on the screen giving a stunning crystal clear, pin-sharp picture.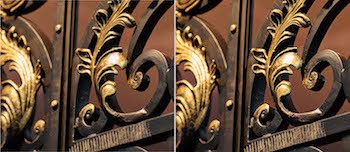 Vertical Lens Shift
Simplify installation with vertical lens shift, which provides a wider range of projector placement possibilities. This makes it easier to position the projector in your room and enables a wider range of screen size options.
Control
Featuring a wide range of options you can control and monitor the projector remotely.
• RS232 Optoma projector's come with an extensive set of RS232 commands making it simple and easy to manage using any control system.
• AMX Compatibility Dynamic discovery protocol is incorporated into the projector allowing for easy installation with AMX control systems.
• LAN Control Using the compatible RoomView software you can power on/off, monitor, manage and control up to 250 projectors at the same time from any computer.
• Schedule the projectors to power on/off.
• Control and alter the projector settings using the simple web browser.
• Emergency text broadcast capabilities for urgent or important announcements.
• Automatically receive email updates for lamp maintenance.
PJLink
PJLink protocol is incorporated into the projector allowing for easy installation with PJLink compatible control systems.
Telnet
This model is able to receive comands via telenet allowing for easy installation with Telnet compatible control systems.
Full 3D
Optoma projectors can display true 3D content from almost any 3D source, including 3D compatible graphics cards, 3D broadcasting and the latest generation 3d media servers.
Integrated speaker
A powerful built-in speaker provides exceptional sound quality and an easy setup without the need for costly external speakers.
USB-Power
Use the USB-A port to power an HDMI dongle, such as Google Chromecast.
AV mute
Stay in control of your presentation with AV mute. Direct your audience's attention away from the screen by blanking the image when not needed.
Auto power off
There may be instances when the projector is left running when not in use. To help save energy, the "auto power off" feature automatically turns off the projector after a set period of time if it is not being used
Direct power on
The projector will start up instantly when power is supplied to the unit. This eliminates the need to manually turn on the projector via the remote control or the keypad, ideal for use in rooms with a "master" power switch.
Direct power off
Power off your projector immediately or directly at the mains. This means you don't have to wait for the projector to cool down before turning it off.
24/7 operation
Optoma projectors have been designed to operate 24 hours a day in standard orientation. Perfect for applications where prolonged periods of use is required. Subject to 24 hour terms and conditions.
24/7 Operation – standard lamp warranty applies. Projector warranty is based on standard business usage hours. For optimum performance Optoma recommends that your projector is turned off or placed in standby mode for 30 minutes every 24 hours to prolonging the life of your lamp.
Need some help and advice before buying?
No problem, simply give one of our specialists a call on freephone or drop us an email.
Call Now:

0800 073 0833
Want to get the most from your equipment?
Our team of qualified, certified and CRB checked AV Technicians are available to carry out professional installations of your projector, projector screen, associated cabling and more.
Projector Installation Service
Technical Specifications
Image
Brightness

5000 Lumens

Resolution

4K UHD

Light Source

Laser

Contrast Ratio

300000 :1
Lens
Lens type

Fixed

Throw Ratio – Minimum

1.39

Throw Ratio – Maximum

2.22
Warranty
Projector

1 Year Return To Base

Light Source

5 Years / 12000 cumulative hours
Need help or advice? Talk to experts!
If you need help making your choice, simply call our experts on our freephone.
Call Now:

0800 073 0833
You Might Also Like
The BenQ LK954ST is a compact fixed-lens projector with 5100 lumens, 4K UHD resolution, and flexible installation options. Ideal for immersive experiences.
The BenQ LK935 4K laser projector offers 5500 lumens, 4K UHD resolution, and a wide throw ratio for clear and immersive video conferences.
The Panasonic PT-FRQ60 Series offers smooth 4K images, rich colours, flexible installation, and a 20,000-hour maintenance-free projection.
The Panasonic PT-FRQ50WEJ is a versatile 4K projector with 5200 lumens, laser light source, and extensive connectivity options.
Ultra short throw laser display that creates bright 4KE images up to 160" diagonal, offering a low cost, energy efficient large display solution.
Filterless, heat-pipe-based cooling and hermetically sealed optical block supports 20,000-hour maintenance-free projection. 24/7 operation.
Browse More From Similar Category