BenQ LU785
The BenQ LU785 is a superior conference room projector, offering high-resolution WUXGA visuals and 6000 lumens brightness.
Manufacturer: BenQ
Lamp light source with up to 20,000 hours use
WUXGA resolution (1920 x 1200 pixels, 16:10 aspect ratio)
Projector Warranty: 5 Years or 10,000 Hours
96% Rec. 709 colour gamut for optimal colour performance
£2,994.00 Incl. VAT£2,495.00 Excl. VAT
Resolution:

WUXGA

Brightness (Lumens):

6000

Light Source:

Laser

Lens Type:

Fixed

Projector Warranty:

5 Years or 10,000 Hours
Projectorpoint Opinion
The BenQ LU785 features 6000 ansi lumens, native widescreen WUXGA resolution (1920 x 1200 pixels, 16:10 aspect ratio) and a laser light source for up to 20,000 hours use with minimal maintenance.
Featuring a 1.15-1.90:1 lens ratio with 1.6x optical zoom allows you to position the LU785 closer to the screen than competitor models to achieve the same image size. Horizontal and vertical lens shift is also present to adjust for any slight oversights when installing the projector.
Extensive connectivity inputs including three HDMI inputs. Price Vs Spec the BenQ LU785 is hard to beat
Projection Calculator
Where can I position the projector?
To achieve an image with 382 cm diagonal size, place the projector anywhere between 449.49 to 945.59 cm from the screen.
Manufacturer Overview
WUXGA Superior Conference Room Projector with 6000 Lumens | LU785
First-Rated Colour Performance BlueCore Laser Conference Room Projector for Superb Corporate Visual Communication
Leveraging the industry-leading BlueCore laser technology and the WUXGA high resolution, BenQ's LU785 conference projector is designed for the modern corporates with the well-lit conference rooms where lots of infographics are used for presenting ideas. With BlueCore laser light source for 20,000 hours operation, LU785 features 96% Rec. 709 colour gamut and is certified with IP5X dustproof to guarantee an ultra-high level of image quality while reducing maintenance cost. To meet the high demand for efficiency and convenience during corporate meetings, LU785 can be paired up with optional wireless devices for efficient wireless meeting. Equipped with LAN control capability, LU785 further enhances the convenience in device management for corporate IT managers.
BlueCore Laser Technology
Revolutionary BlueCore Laser Technology
BenQ, the world's No. 1 DLP brand, extends its full line of innovative BlueCore laser conference room projectors with LU785 to unleash the WUXGA resolution for corporate settings, enabling powerful visual communication for professional presentations.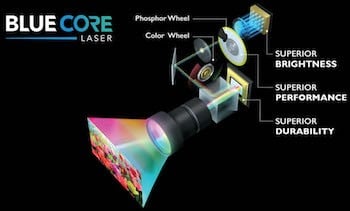 Superior Brightness
Precision-Aligned High-Output Laser Source
Zero-deviation alignment of BlueCore laser diodes boosts luminous flux into the light tunnel, improving light efficacy.
Superior Performance
Secondary Yellow-Infused Colour Wheel
Dual synchronised BlueCore colour wheels utilise an additive yellow segment, stimulating precise RGBY spectra for optimal chromatic performance.
Superior Durability
Hermetically Sealed DLP Chip
Comprising over two million micromirrors that reflect pure light through the colour wheel, the DLP chip is hermetically sealed to resist heat for over 100,000 hours without degradation.
Supreme Image Quality
Dual Colour Wheels Producing 96% Rec. 709 Colour Coverage for Optimal Colour Performance
LU785's powerful BlueCore laser projection utilises a dual colour wheel system to produce unparalleled colour performance that achieves a 96% Rec.709 colour coverage. By increasing colour ratios and the purity of RGBY colour, LU785 dramatically enhances colour saturation to ensure superior presentation quality.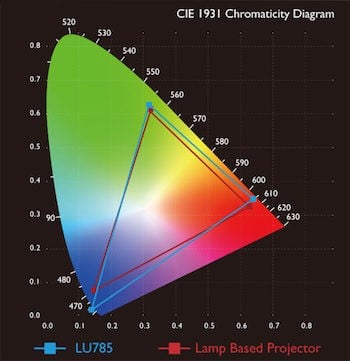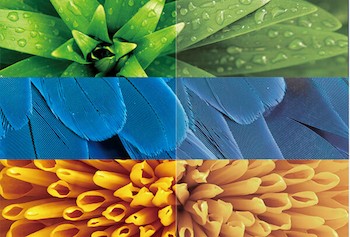 Advanced Infographic Mode for Supreme Presentation Quality
BenQ Infographic Mode perfectly fits the current corporate trend of mastering infographic-heavy presentations that all modern enterprises are striving for. Infographic Mode is great for showcasing the text and graphics of infographic in detail due to LU785's high brightness and better colour gradation through the 96% Rec.709 colour coverage, ensuring more saturated and lively colour performance than presentation mode. Additionally, Vivid Mode is designed for supreme colour performance during video or image presentation.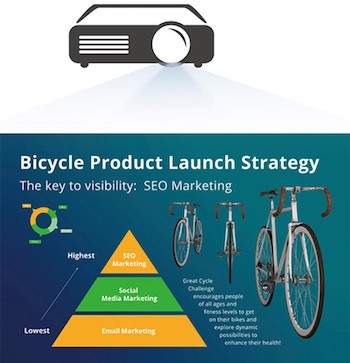 Infographic Mode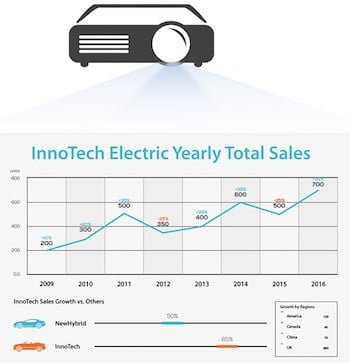 Presentation Mode
WUXGA Resolution for Enhanced Detail and Expanded Content
With impressive WUXGA (1920 x 1200) native resolution that far exceeds Full HD 1080p, BenQ LU785 BlueCore laser projector offers greater details and stunning image clarity when projecting high resolution images.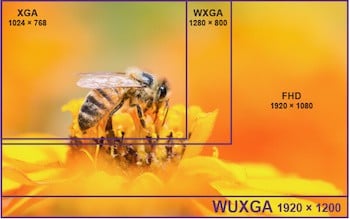 High Brightness Vivid Clarity in Ambient Environments
LU785's 6000lm high brightness allows presenters to deliver and participants to enjoy presentation in comfortably lit medium-sized conference rooms, while supporting uncompromised debate, collaboration, note-taking and interaction to facilitate the most productive meetings. The high luminance provides professional picture quality for installers to satisfy stringent corporate standards.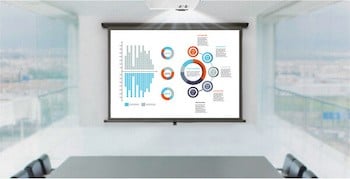 BenQ Projectors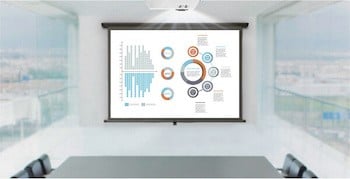 Other Projectors
Laser-Enabled Ultra-High Contrast
LU785 laser projector creates strikingly clear images with stratospherically high contrast ratio of 3,000,000 for true deep blacks, vividly rich colours, and fine subtle details. LU785 also features spontaneous response, requiring no wait to turn' on or resume from blanking in true black for flexible performance capability.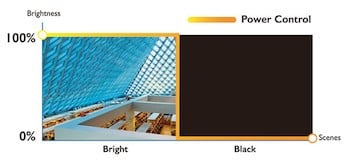 Multiple Lighting Modes to Maximise the Viewing Experience
LU785 comes with multiple lighting modes to optimise the projected image in a variety of ambient lighting situations. The feature guarantees the ideal brightness level to enhance the overall visual experience in any environment, while optimising energy consumption and extending the projector's lifespan.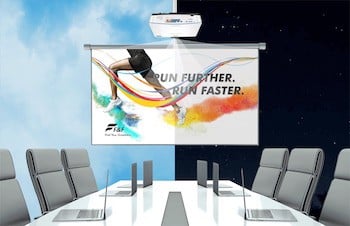 Versatile Wireless Presentation Solutions
BenQ offers a complete line of wireless presentation solutions* to fulfill the diverse needs of meeting room applications, let you share ideas from any devices.
* Optional equipment
One Button to Start Full HD Wireless Presentations
BenQ InstaShow is a unique zero software solution that allows up to 32 presenters to lead from any device. InstaShow requires no driver installation and is compatible with any OS or hardware platform, making it easy for presenters to wirelessly take turns delivering seamless presentations for improved meeting efficiency when worked with BenQ LU785 conference room laser projector. * Compatibility requirements: USB/HDMI or USB-C ports on source laptop and HDMI input on display device.
Enduring Reliability
20,000 Hour Long-Lasting Performance
BenQ BlueCore laser projectors deliver 20,000 hours of superior image quality and performance. The laser light source resists colour decay over time, making BenQ laser projectors ideal for multiple blending projections without concern for adjacent projectors generating different levels of brightness after a period of operation.
DLP Technology for Lasting Vibrant Colour
BenQ BlueCore laser projectors are based on the absolute reliability of the 1-chip DLP design. The highly durable DLP chip can last over 100,000 hours without degradation, ensuring true-to-life colours and pristinely legible text over countless uses.

Superior Dustproofing for Severe Conditions
BenQ LU785 Laser Projector is designed with sealed laser modules and enclosed light engines to protect the DMD chip, colour wheel sensor, laser bank, and other optical components. The design has passed the dust chamber test standard JIS Class IP5X.
Excellent Installation Flexibility
360° and Portrait Projection Accommodate Diverse Spaces
BenQ LU785 features BlueCore technology which guarantees reliable projection and can be tilted 360° vertically and horizontally, allowing projection onto ceilings, walls, floors, or angled signage to fulfil any projection demand.
Big Zoom for Flexible Installation
LU785's 1.65X big zoom and lens shift systems can perfectly align images in any challenging venue, especially when lights or vents are located at the ceiling mount site. The installation flexibility facilitates corporates to replace the outdated projectors and offers diverse mounting options in various corporate meeting room applications.
Digital Image Shrinking and Shift
Digital image shrinking and shift lets installers shrink the image to 80% of the original size in 0.5% increments via OSD menu. Images can also be sifted, so installers do not have to physically move projectors in order to align everything precisely within a desired frame or space.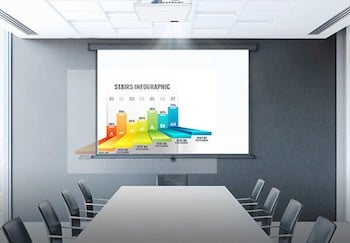 Before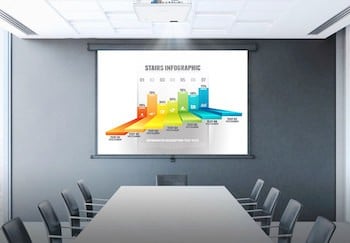 After
Advanced Image Calibration for Ideal Projection Alignment
LU785 is equipped with a two-dimensional keystone correction range of ±30 on both horizontal and vertical axes to counteract the trapezoid effect, a common phenomenon when the projector must be installed off-center. Installers can use Corner Fit control to adjust each corner respectively, for perfectly aligned image geometry.

Highly Integrated Network Control and Management System Compatibility
Comprehensive Control System Compatibility
LU785 is widely compatible with leading projector control systems including Extron, Crestron, AMX and PJ-Link for network control via LAN, making it simple to integrate into corporate network infrastructures. When there is no LAN infrastructure, LU785 also supports RS-232 for reliable long-distance installations up to 15 meters.
Firmware Upgrade by LAN
Administrators can centrally upgrade firmware on BenQ projectors that are on the same local network via LAN deploying the latest updates to devices at once. This application can upgrade firmware with a friendlier interface.
* For more information about the tool, please contact BenQ service.
Centralised Control with BenQ Software
BenQ centralised control software is a management tool for computers that enables remote and centralised management of multiple digital projectors by IT administrators/technicians via a local network. The management capabilities include the ability to remotely monitor, control, and configure projectors individually or as groups.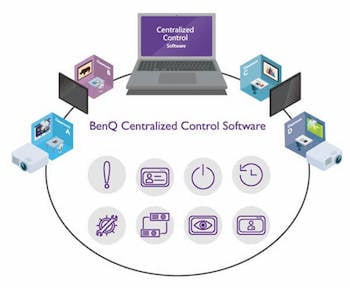 Need some help and advice before buying?
No problem, simply give one of our specialists a call on freephone or drop us an email.
Call Now:

0800 073 0833
Want to get the most from your equipment?
Our team of qualified, certified and CRB checked AV Technicians are available to carry out professional installations of your projector, projector screen, associated cabling and more.
Projector Installation Service
Technical Specifications
Image
Brightness

6000 Lumens

Resolution

WUXGA

Light Source

Laser

Contrast Ratio

3000000 :1
Lens
Lens type

Fixed

Throw Ratio – Minimum

1.15

Throw Ratio – Maximum

1.90
Warranty
Projector

5 Years or 10,000 Hours

Light Source
Documents
Need help or advice? Talk to experts!
If you need help making your choice, simply call our experts on our freephone.
Call Now:

0800 073 0833
You Might Also Like
SAVE £400. The Sony VPL-PHZ61 laser projector: bright, rich colours, clear images, flexible installation. Ideal for integrated AV environments.
The Sony VPL-PHZ51 laser projector offers impressive brightness, rich colours, and clear images. It's perfect for integrated AV environments.
Upgrade to the Epson EB-L730U for bright, cost-effective displays. With 7,000 lumens and WUXGA resolution, it's perfect for any environment.
The EB-L635SU short-throw, 6,000 lumens laser projector is ideal for users who need to produce large images in tight spaces.
Upgrade to the Epson EB-L630U for bright, cost-effective display. 6,200 lumens, WUXGA resolution, enhanced connectivity, easy installation.
Upgrade to the Epson EB-L630SU: 6,000 lumens, WUXGA resolution, easy installation, enhanced connectivity. Ideal for education, corporates, museums.
The Panasonic PT-VMZ71EJ: compact, lightweight LCD laser projector with 7000 lumens, WUXGA resolution, and 6-Point Screen Correction.
Upgrade to the Epson EB-L530U: bright, cost-effective display with 5,200 lumens, WUXGA resolution, easy installation & enhanced connectivity.
The Optoma ZU500USTe is a bright 5000 lumens ultra short throw laser projector with WUXGA resolution and 24/7 usage capability.
Panasonic PT-VMZ61EJ: compact, lightweight, 6200 lumens, WUXGA resolution, 20,000-hour laser light source. High visibility in bright rooms.
Compact LCD laser projector with 7000 lumens, WUXGA resolution, and 6-Point Screen Correction.
Browse More From Similar Category