BenQ LK990
This projector is now end of life.
The BenQ LK990 is a high-quality 4K UHD laser projector, perfect for various applications including sports bars, private guesthouses, and outdoor cinemas.
6000 lumens brightness
Laser light source
4K UHD resolution
5 Years Projector Warranty
20000 Hours Lamp Warranty
£7,582.80 Incl. VAT£6,319.00 Excl. VAT
Resolution:

4K UHD

Brightness (Lumens):

6000

Light Source:

Laser

Lens Type:

Fixed

Projector Warranty:

5 Years
Projectorpoint Opinion
The BenQ LK990 is a 6000 ansi lumen, 4K UHD resolution (3840 x 2160 pixels on screen achieved via upscaling technology) projector featuring a laser light source display for lamp free presentations and a dual colour wheel for superb colour rendition.
The LK990 also features a 1.47x optical zoom combined with generous vertical (+/- 60%) and horizontal (+/- 25%) lens shift for quick, simple and precise image placement.
Extensive connectivity including 3 HDMI inputs and 1 HDMI output as well as a HDBaseT input for future proofed connectivity to sources.
A rock solid 5 year projector warranty rounds up the offering for a bright, Ultra High Definition, immensely flexible, future proofed laser projector and our projector of choice at this price point.
Projection Calculator
Where can I position the projector?
To achieve an image with 382 cm diagonal size, place the projector anywhere between 449.49 to 945.59 cm from the screen.
Manufacturer Overview
4K HDR Installation Laser Projector with 6000 Lumens | LK990
Ultra-Accurate 4K HDR BlueCore Laser Projection for Enjoying Superb Entertainment Content
With the capability of generating intense BlueCore laser-powered brightness for 20,000 hours of maintenance-free operation, BenQ's LK990 harnesses the enduring DLP picture quality, razor-sharp 4K resolution and IP6X level protection against dust to deliver impactful visual communication. LK990 is ideal for a wide range application scenarios such as sports bar, private guesthouses, or simulated exhibitions. With the IP6X-certified dustproof capabilities and a high luminence, LK990 can resist dust in outdoor environments while being used for outdoor cinema. By leveraging the innovative HDR technology and industry-leading light source, LK990 facilitates impactful and impressive visual display, allowing entertainment venues, outdoor environment or sports bars to provide the most authentic and delicate audiovisual enjoyment.
BlueCore Laser Technology
Revolutionary BlueCore Laser Technology
The world's No.1 DLP brand BenQ expands its full line of innovative BlueCore laser projectors for fixed lens installation with LK990, enabling authentic sports matches, enthralling outdoor cinemas, or impactful entertainment in sports bars or private guesthouses.
Superior Brightness
Precision-Aligned High-Output Laser Source
Zero-deviation alignment of BlueCore laser diodes boosts luminous flux into the light tunnel, improving light efficacy.
Superior Performance
Secondary Yellow-Infused Colour Wheel
Dual synchronised BlueCore colour wheels utilise an additive yellow segment, stimulating precise RGBY spectra for optimal chromatic performance.
Superior Durability Hermetically Sealed DLP Chip
Comprising over two million micromirrors that reflect pure light through the colour wheel, the DLP chip is hermetically sealed to resist heat for over 100,000 hours without degradation.
Long Lasting, Supreme Image Quality
4K UHD Image Quality for Perfect Pictures with Subtle Details
LK990 utilises the DLP 4K UHD's 4.15 million micromirrors and the fast switching speed as well as the advanced image processing capability to achieve Customer Technology Association's (CTA) 4K UHD specification, delivering a 3840 x 2160 resolution with 8.3 million distinct pixels for each frame. With a resolution that's 4 times higher than Full HD 1080p, 4K UHD reduces pixel blur for awe-inspiring clarity and crisply defined fine details. 4K technology offers subtle image details
Superb Image Details and Colour Integrity from DLP Technology
To avoid inherent alignment issues of multiple panels , which can be more serious when projecting 4K content, BenQ LK990 4K Laser Projector preserves colour and image integrity with the single DMD DLP technology. Generating razor-sharp images and pure colours, LK990 eliminates problems such as blurriness, shadowing, and interference patterns for immaculate clarity.
Dual Colour Wheel for Optimal Colour Performance
LK990's powerful BlueCore laser projection utilises a dual colour wheel system to produce unparalleled colour performance by increasing colour ratios and purity of RGBY colour while achieving 92% of Rec.709 colour coverage, dramatically enhancing colour saturation to ensure superior viewing experiences.
Hyper-Realistic Video Quality Empowered by HDR 10 Technology
Supercharged by HDR10 support with BenQ's exclusive Auto HDR Colour Rendition, LK990 high Dynamic Range performance offers greater brightness, contrast range, and image optimisation in a single step, bringing out every detail in 4K content for superior video display.
Auto HDR Natural Colour Rendition for Lifelike Colour Realism
Unlike other HDR projectors with biased colour temperature and oversaturated greens and reds, BenQ Auto HDR Natural Colour Rendition technology unleashes breathtaking 4K HDR visuals with perfectly lifelike colour performance automatically tuned to reflect nature.
Optimise Image Quality with 4K Image Amplifying Technology
To ensure the best image quality, BenQ LK990 adopts the cutting-edge 4K Image Amplifying Technology to further enhance the quality of projected images. LK990 automatically upgrades the resolution of all projected images to 4K, guaranteeing superb image details. Additionally, LK990 also comes with Pixel Enhancer 4K, a motion-adaptive edge enhancement feature that detects changes in the colour between an object and its background to produce sharp edges and precise surface textures.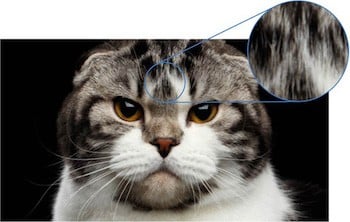 DLP Technology for Lasting Vibrant Colour
BenQ BlueCore laser projectors are based on the absolute reliability of the 1-chip DLP design. The highly durable DLP chip can last over 100,000 hours without degradation, ensuring true-to-life colours and pristinely legible text over countless uses.
Vivid Clarity in Bright Ambient Environments
LK990's 6000lm high brightness produces wondrous displays with delicate and authentic image quality in bright environments like sports bars, private guesthouses or outdoor environments.
Laser-Powered Ultra-High Contrast
LK990 4K laser projector creates strikingly clear images with stratospherically high 3,000,000:1contrast ratio for true deep blacks, vivid rich colours and fine subtle details. LK990 also features a spontaneous response, requiring no wait to turn on or resume from blanking in true black for flexible performance capability.
DICOM X-ray Imaging
DICOM (Digital Imaging and Communication in Medicine) is a standard for handling, storing, printing and transmitting medical imaging information. DICOM Simulation Mode is ideal for viewing grayscale medical images, such as X-rays, with an advanced grayscale level for training and educational purposes.
Enduring Reliability
Long-Lasting 20,000 Hour Performance
BenQ BlueCore laser light source is guaranteed for 20,000 hours of superior image quality and performance. The laser light source resists colour decay over time, making BenQ laser projectors ideal for the applications that require powerful colour performance and reliable projection quality.
Superior Dustproofing for Severe Conditions
BenQ's LK990 4K Laser Projector is designed with sealed laser modules and enclosed light engines to protect the DMD chip, colour wheel sensor, laser light source, and other optical components. This lock-and-key design hermetically seals the engine from dust* to prolong projector lifespan.
*Dust chamber test standard: IEC Standard 60529IP6X
Groundbreaking Thermal Conduction through Innovative Cooling Systems
LK990 employs two advanced cooling systems to ensure optimal thermal conduction during operation. The circulatory liquid cooling system protects the laser light source and DLP engine even after constant operation in ambient temperatures up to 40°C (104°F), while the heat pipe cooling system cools the DMD chip to effectively produce a comfortable sound with improved reliability.
Additionally, LK990 also comes with several embedded thermal sensors to intuitively control the projector's temperature and ensure optimal operation. The sensors can detect the temperature of the laser light source and surrounding environment in real-time and automatically adjust the speed of the fans.
High Altitude Mode for Elevated Environments
Equipped with an integrated air pressure sensor, LK990's intelligent High Altitude Mode automatically alerts users to enable efficient cooling and properly maintain operating temperatures in high altitude environments with thinner atmospheres.
Excellent Installation Flexibility
360° and Portrait Projection Accommodate Diverse Spaces
BlueCore laser technology guarantees reliable projection from any angle. Dynamic installation options such as 360° rotation and portrait orientation allow projection onto ceiling, walls, floors, or angled signage.
Big Zoom and Lens Shift for Flexible Installation
LK990's wide zoom range, focus, and horizontal/vertical lens shift systems can perfectly align images in any challenging venue. Lens shift can move projected images up and down by 60% of screen height or left and right by 25% of screen width without sacrificing image quality. The 1.47X big zoom feature offers a wide range of throw distances to significantly increase installation flexibility for diverse mounting options in various public display scenarios.
Digital Image Shrink
Digital image shrink allows installers to shrink the image to 75% of the original size in 0.5% increments via OSD menu, offering installers an effortless way to precisely align projected images of any size fit well within the desired frame.


Designate Remote Control ID to Projector for Independent Control
Installers and IT managers can assign a specific remote control ID to each projector, avoiding signal interference and unintentional changes when installing multiple projectors in a venue.
Low Maintenance Cost
Laser Light Creates Value Over Time
BenQ BlueCore projectors feature laser light sources that are guaranteed for 20,000 hours of maintenance-free operation, saving costs for lamp replacement and maintenance. Based on the average brightness cut-off of typical long-life lamps, BlueCore's value exceeds that of 10 lamp replacements over the life of the projector.
Highly Integrated Network Control and Management System Compatibility
Comprehensive Control System Compatibility
LK990 is widely compatible with leading projector control systems including Crestron, AMX and PJ-Link for network control via LAN, making it simple to integrate into corporate network infrastructures. When there is no LAN infrastructure, LK990 also supports RS-232 for reliable long-distance installations up to 15 meters.
Centralised Control with BenQ MDA Software
BenQ's Multiple Display Administrator (MDA) software provides powerful centralised multi-projector management, including automated opening and closing procedures for public spaces, remotely controlled power on and off, and scheduling for institutions and corporations.
HDBaseT Compatibility
The leading-edge HDBaseT connectivity combines video, audio and device control signals from multiple sources including PCs, laptops, document cameras, and Blu-rays onto a single CAT5 cable, ensuring seamless transmissions up to 100 meters.
Need some help and advice before buying?
No problem, simply give one of our specialists a call on freephone or drop us an email.
Call Now:

0800 073 0833
Want to get the most from your equipment?
Our team of qualified, certified and CRB checked AV Technicians are available to carry out professional installations of your projector, projector screen, associated cabling and more.
Projector Installation Service
Technical Specifications
Image
Brightness

6000 Lumens

Resolution

4K UHD

Light Source

Laser

Contrast Ratio

3000000 :1
Lens
Lens type

Fixed

Throw Ratio – Minimum

1.38

Throw Ratio – Maximum

2.02
Warranty
Projector

5 Years

Light Source

20000 Hours
Documents
Need help or advice? Talk to experts!
If you need help making your choice, simply call our experts on our freephone.
Call Now:

0800 073 0833
You Might Also Like
The Panasonic PT-FRQ60 Series offers smooth 4K images, rich colours, flexible installation, and a 20,000-hour maintenance-free projection.
The Panasonic PT-FRQ60 Series offers smooth 4K images, rich colours, flexible installation, and a 20,000-hour maintenance-free projection.